The Church of St. Mark, Île-Grande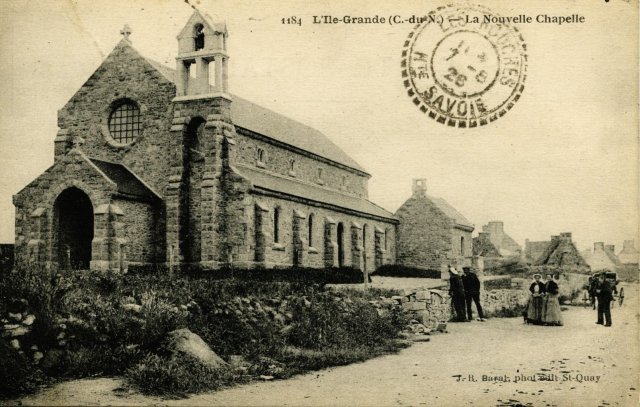 Part of the parish of Pleumeur-Bodou, the Île-Grande once had a chapel "Saint-Sauveur", dating from the late sixteenth or early seventeenth century, in a very traditional architecture of the region and that looked like its neighbor of Penvern, which is still visible today.
The chapel of Saint Sauveur degraded over the centuries: despite major modifications and repairs, as in 1858, it is heavily damaged by lightning at the beginning of the twentieth century.
The building in ruins is razed and we started in 1909 the construction of a new chapel, on plans of architects Emile Genest and Claude-Joseph Lageat. The building is neo-Romanesque, and made of local stone, obviously from the quarries of the Île-Grande, which was, at that time, a granite mining site.
Realized after the separation of Church and State (1905), the church was therefore property of the diocese.
The Île-Grande became "parish" in 1929, the chapel of St. Mark then became a church.
The statues of St. Mark and Our Savior can be admired in the church of the Île Grande, as well as a representation of death, Ankou, installed by the last resident rector, brother Conan, whose body rests at the foot of the church.
Pardon: the day of Ascension.