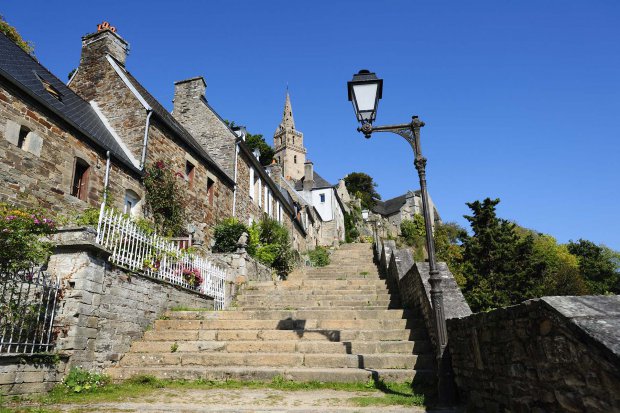 Lannion, city and historic center
Historic capital of the Trégor, Lannion is a pretty town of 20,000 inhabitants built on a hillside on the banks of the River Leguer.
The lower town, along the quaysides, and the upper town, overlooking the Léguer Valley, are particularly pleasant: the well-preserved historic town center has a complete set of old buildings, half-timbered houses, houses and monuments. in local granite.
The city center is lively on Thursday, regional market day: Thursday morning market in Lannion is also one of the most beautiful markets in Brittany and the largest in the Côtes d'Armor!
This is an opportunity to visit the city, busy, filed with shops, and without cars ... and stroll through the streets to discover the most beautiful monuments as small houses with traditional architecture.
The district of Brelevenez is a place not to be missed: from another height, the village of Brelevenez stands out for its preservation, like a village frozen around 1800; around the church and its cemetery, some typical pink granite houses form a nice place to visit, enlivened in the evening by some nice bars where the youth of the region likes to meet in a friendly atmosphere. Walking distance to Brélevenez, from the center of Lannion, by a famous staircase of 132 steps, which climb is rewarded by the exceptional panorama offered to the walker at the foot of the church of Brélevenez.
Regional Market: Thursday morning

Visits of the historic center of Lannion in summer; Thematic tours and night tours.

Visit the church of Brélevenez during summer, with the guides of the Sprev.

"Les Tardives": Animated evenings every Friday evening in July and August; street concerts, animations, catering.