Marine Aquarium of Trégastel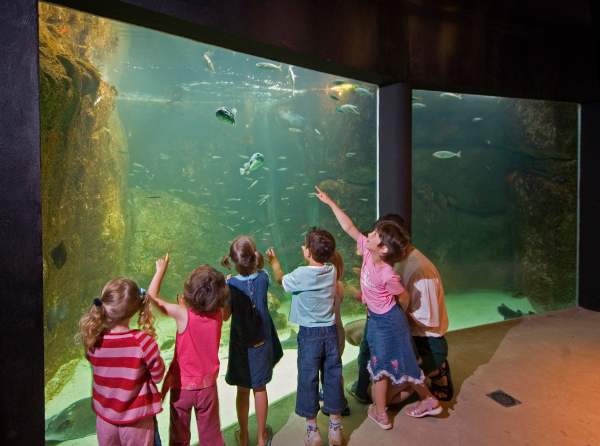 Marine aquarium to visit in Brittany on the Côte de Granit Rose
Trégastel Aquarium, Pink Granite Coast Trégastel Aquarium, Pink Granite Coast
Location: Place du Père Eternel, Trégastel

Website: Marine Aquarium of Trégastel

Tel: +332 96 23 48 58
An aquarium under the Pink Granite Coast
Located in the heart of a granite chaos, 50 meters from the beach of Coz-Pors, the Marine Aquarium of Trégastel, focused on the local marine life and the impact of the tides phenomenon, invites you to discover the life and the animals of the foreshore and the abyss.
The caves of the Aquarium were formed more than 300 million years ago and have housed successively since the nineteenth century a chapel, a dwelling, a munitions depot and a prehistoric museum. The site became an aquarium in 1967 and was renovated in 2006.
The main interest of the Aquarium is its natural setting and its fauna caught in local coastal waters: abundant wildlife, often very colorful and extremely diverse.
The tour covers three areas: the Embrun Zone, above the highest water level; the Tidal Zone, swept by the ebb and flow of the waters; and the Zone of Depths, always submerged.
The Marine Aquarium of Trégastel presents the local underwater wildlife: lobsters, bars, pollock, abalone, congers, rays, fruit bats ...
Access to the summit of the pink granite chaos, at the foot of the "Père Eternel", at the end of the visit, offers a panoramic view of the Pink Granite Coast.
The visits
The Marine Aquarium Trégastel offers visitors a fun and educational visit with many facilities: touch pool, wave pool, phylogenetic branch tree, glass bubble, tank of 50000 liters of seawater ...