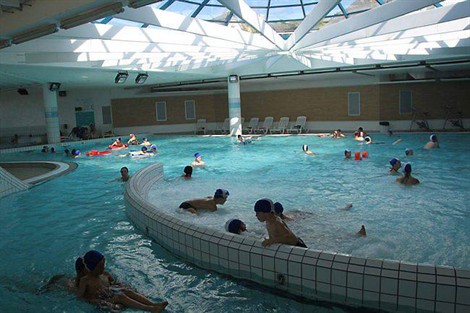 Relaxing pool with sea water, spa - balnéo
Sea Forum - Beach Coz-Pors Trégastel

Website: www.forumdetregastel.fr

Tel. : 02 96 15 30 44
By staying in Pleumeur-Bodou, you can enjoy the benefits of the sea and relax at the Forum de Trégastel:
The sea has never done so much for you!
Aquatic complex unique in an exceptional site, the Forum of Trégastel located on the beach of Coz-Pors facing the granitic chaos of Ile Ronde, welcomes you all year round.
I SWIM
Enjoy every day the benefits of seawater at 30 °, with our thalasso-tonic course: bench and massage jets, river against the current, hot bath .... Swim or relax to you to choose!
I AM MOVING
Discover our cardio-fitness room facing the sea equipped with devices suitable for all, to allow you to enjoy, move and have fun while playing sports.
I BUBBLE
Escape to our wellness area, with saunas, steam rooms, tepidarium, jacuzzi, and a tea room. This is the well-being assured for total relaxation Come enjoy the beauty of the site and the breathtaking view of the sea, with the promise of a real moment of relaxation and well-being.
(The wearing of the swimming cap is mandatory at the Forum and the swim shorts forbids only bathing and boxing briefs are allowed)